BEFORE YOU APPLY, PLEASE READ INFORMATION ON LEGALIZATION OF YOUR EDUCATIONAL DOCUMENTS. THIS INFORMATION IS VERY IMPORTANT.
REFUND POLICY IS DESCRIBED AT THE BOTTOM OF THIS PAGE.
Application procedure takes place only through  our admission platform2.  Once you are on our admission platform, please click "

become an applicant

" tab and follow further instruction.Information that we ask for are necessary for further application process.3. Add your educational documents. The system will guide you on what documents are necessary . When we verify your application, the system will send a notification to your email address. Therefore, please make sure all your contact information is correct.  Verification process may take up to 5 business days.4. If your documents are ok, you will be invited to an

online automated interview

. You will have 15 days to complete it once the invitation is sent to you. 5. Once your interview is positively evaluated, you will receive conditional acceptance and invoices for tuition fee and application fee will be issued. Once we receive the payment, you will be issued an acceptance letter for visa purposes only. The decision on entering to the student list will be given you in person once you arrive and present us all original documents for verification purposes only, sign study agreement and an official vow. If you apply to bachelor studies, you will have to take care of the
With accetance letter you are ready for visa interview. Please find out at the Embassy, what documents are needed for visa purposes. Sometimes, you may need confirmation of accomodation or original documents. Therefore, we need to know about it at least 3 weeks before your visa interview. There are some countries, where waiting for visa interview is very long (over a month). Therefore, we suggest booking an interview visit before you receive Acceptance letter from us. Please check, whether original documents are needed. We will send originals to you only upon request. Also, upon request only, an email will be sent to your Embassy to confirm that you are accepted to the West Pomeranian Business School.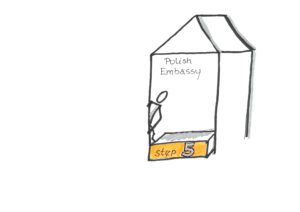 6. When visa is received, please inform us about that, so we can change your application status to enrolled. Also, we need to know all details about your travel to Szczecin, so we can confirm your accomodation, send you school schedule etc. This is the end of application process and we are happy to see you soon 🙂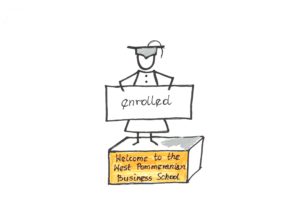 Please keep in mind that you will be refunded full tuition (without acceptance fee) only in case of Embassy visa denial. Please send us the proof of denial and refund form to: international@zpsb.pl.We will return the fees only to the same account holder who transferred us fees. In any other cases, tuition fee and application fee is not refundable
Apply now
Keep in mind that the whole application  process may take up to 2 months:
application procedure:

review of your documents: 5 business days
tuition fee receipt: up to 5 business days
acceptance letter issuance: 2 business days
visa interview: sometimes more that 30 waiting days (depends on a country where you apply for visa)